Bahlsen Hannover Pop-Up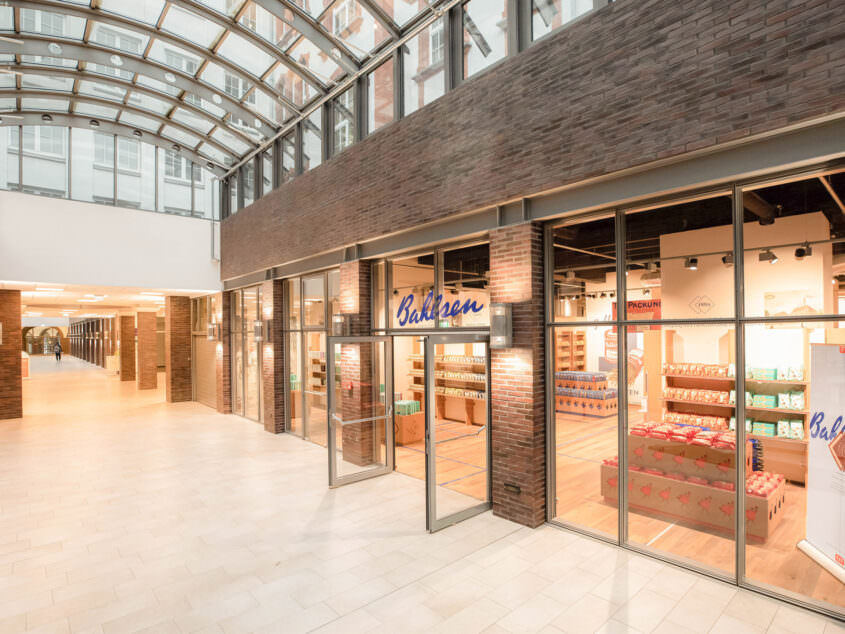 Completed in October 2021, this 268.5 sq m retail store is part of the Podbi Park commercial complex in Hannover. Rich in design history, Podbi Park sits on the site of the former Bahlsen biscuit factory. Constructed in 1911 by architect Karl Siebrecht, the factory building – now home to Bahlsen's headquarters – is a notable work of architecture in Hannover's List district. The Art Nouveau influence is visible on the building's exterior decorative elements, as well as the interior furnishings.
This newest location is a pop-up experience and takes advantage of its close proximity to the Bahlsen headquarters. Cardboard is used as the primary design element in a move toward sustainability and shopfitting flexibility. In the end, the materials can be easily removed and recycled. The design concept is a time journey, as well as a brand journey for the customer, coinciding with Bahlsen's relaunch of its logo and packaging.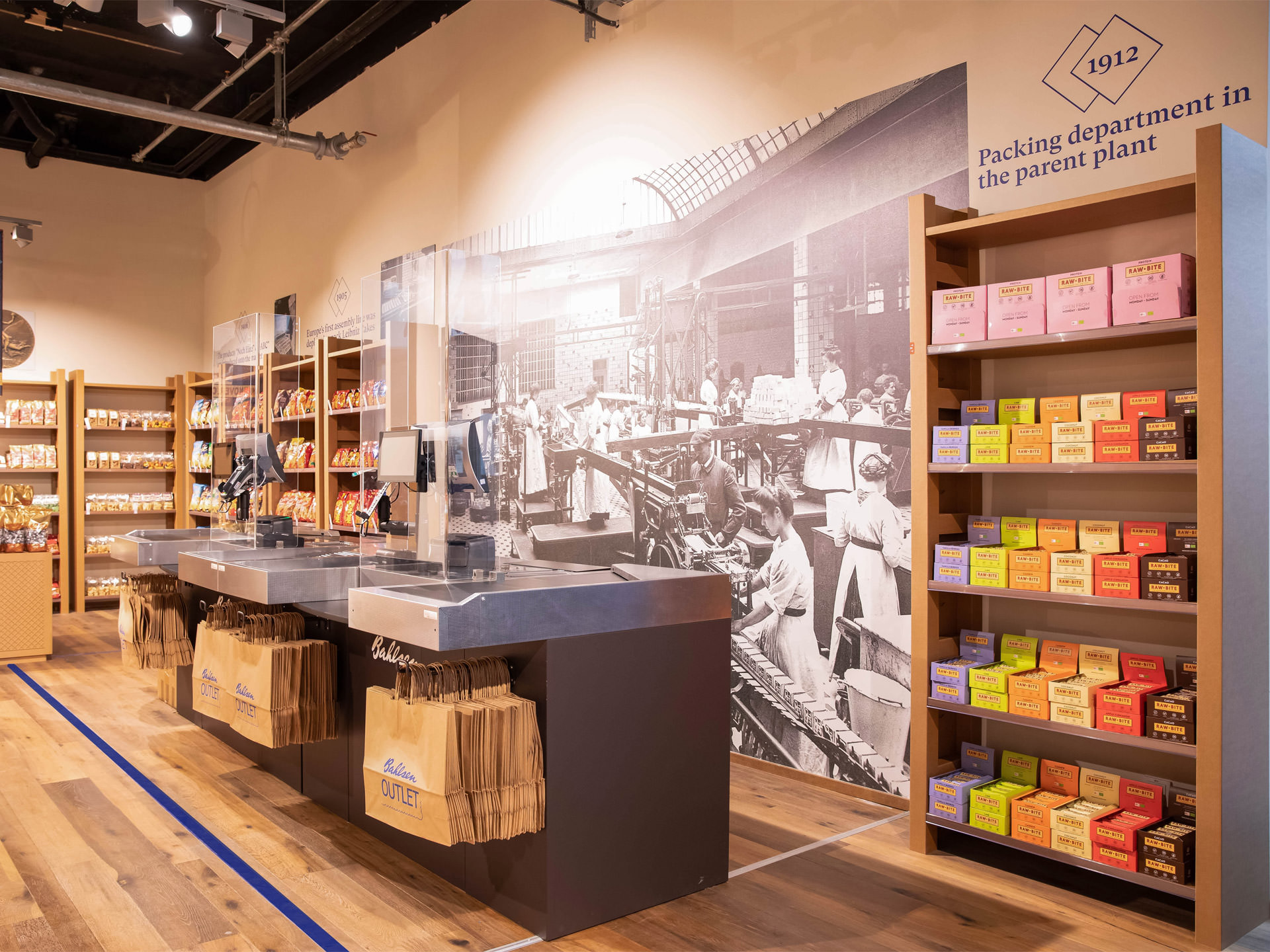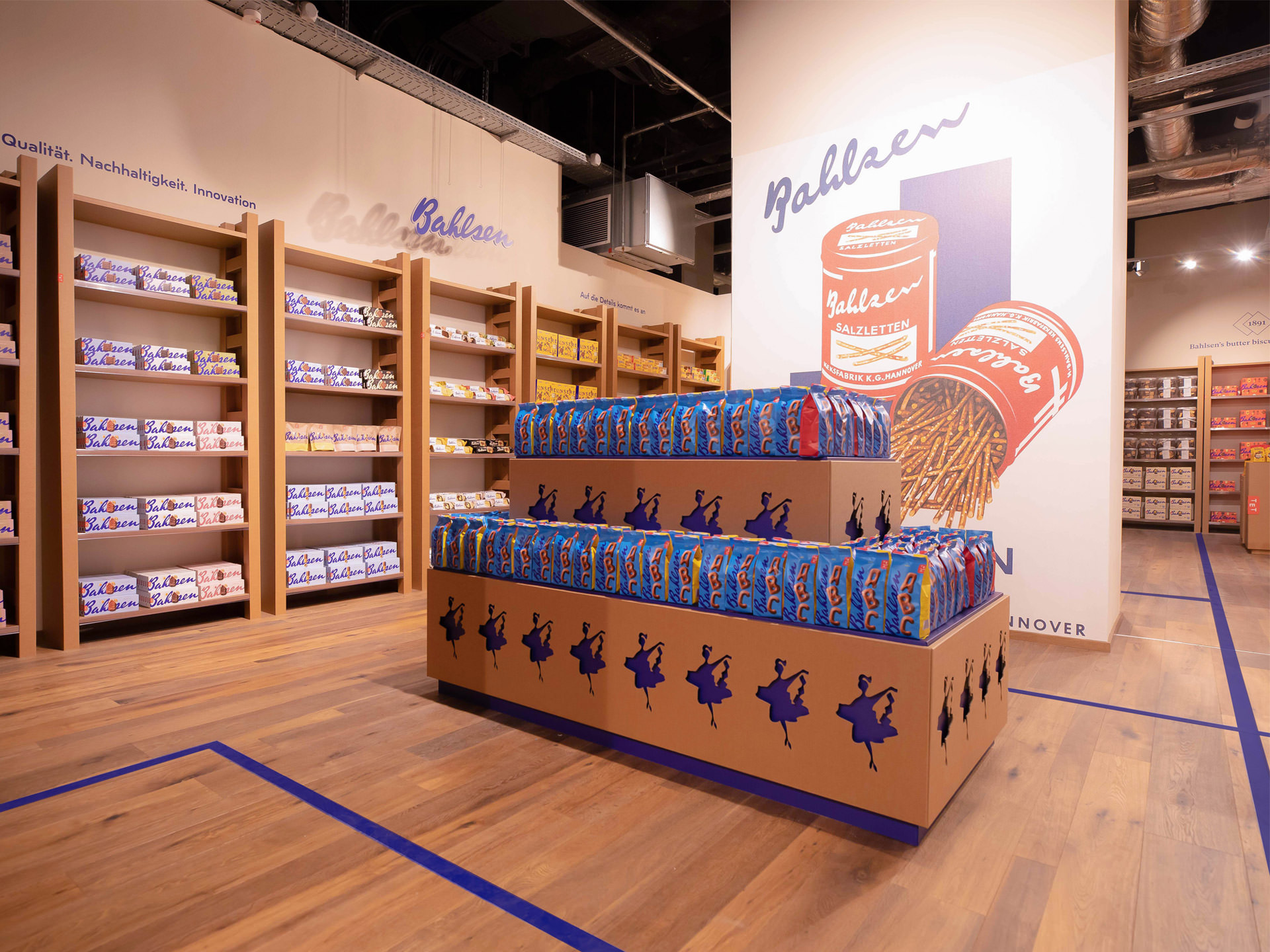 The shopfitting is done in a true pop-up fashion. The material and design of the furniture makes it possible for anyone – from expert to novice – to quickly erect and dismantle the 98 and 60 cm wide shelves that line the store. The multi-height floating furniture adds an element of whimsy with its bold colors and laser-cut out shapes of Bahlsen characters. Waffle and diamond patterns found in the store's graphic design repeat on the smaller floating furniture, creating a cohesive look.
A visit to the company's on-site archive, provided a treasure trove of vintage graphics, ceramics, and biscuit tins to be incorporated into the design solution. Beginning in 1891 with the creation of the first Leibniz biscuit, customers are guided through a visual and textual history of Bahlsen, which line the upper walls of the store above the shelves.
Vinyl lines along the floor in Bahlsen blue guide the customer to each graphic, as in a museum. This wayfinding takes inspiration from the new website and incorporates the new colors and font. The store zoning reflects the themes of heritage, values, and change. The result re-introduces the customer to company's legacy and unveils a new look – in the end, showing the evolution of 132 years of Bahlsen.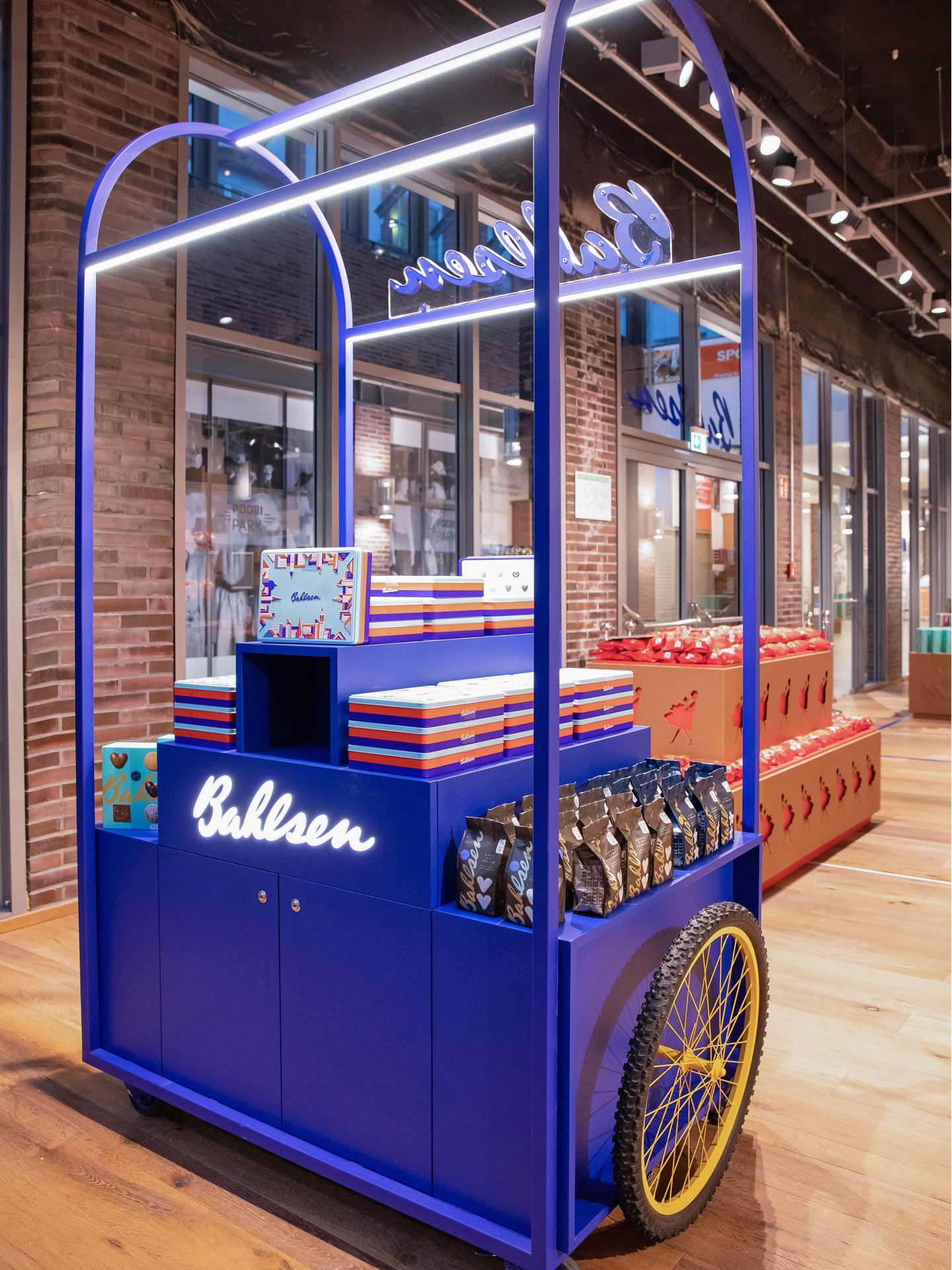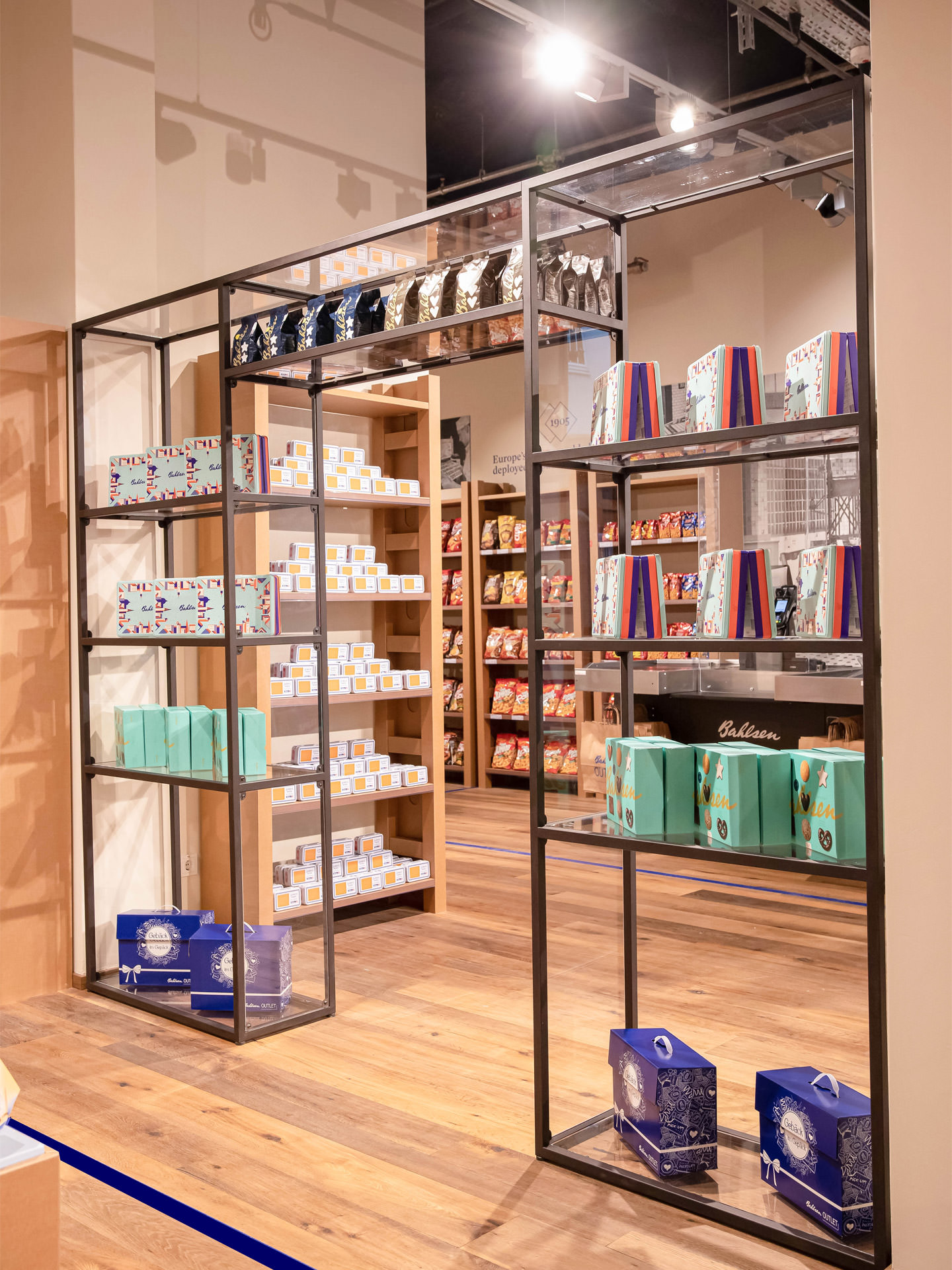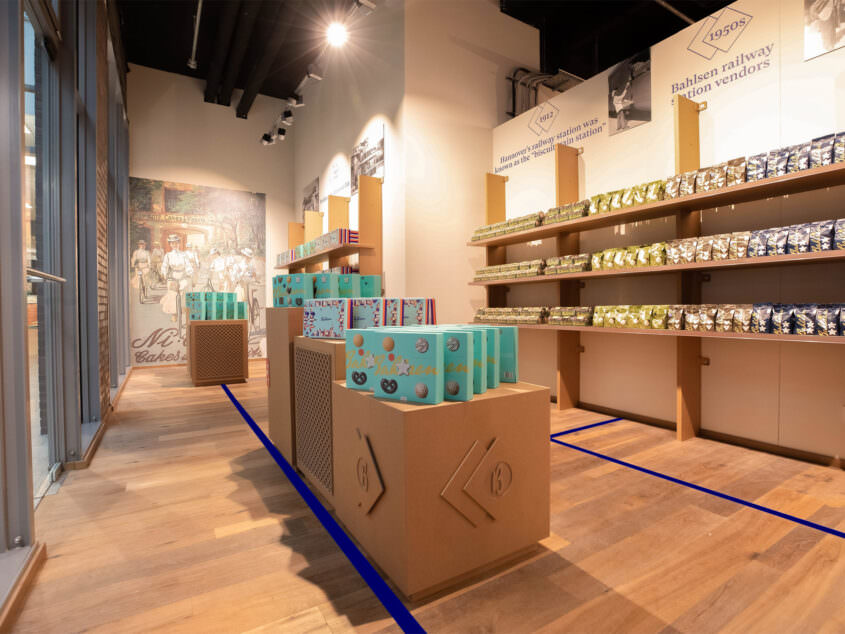 copyright © gül koc GmbH
LP 1-8
Credits sven vüllers fotografie
Year 2021