Futura Floors Exhibition Booth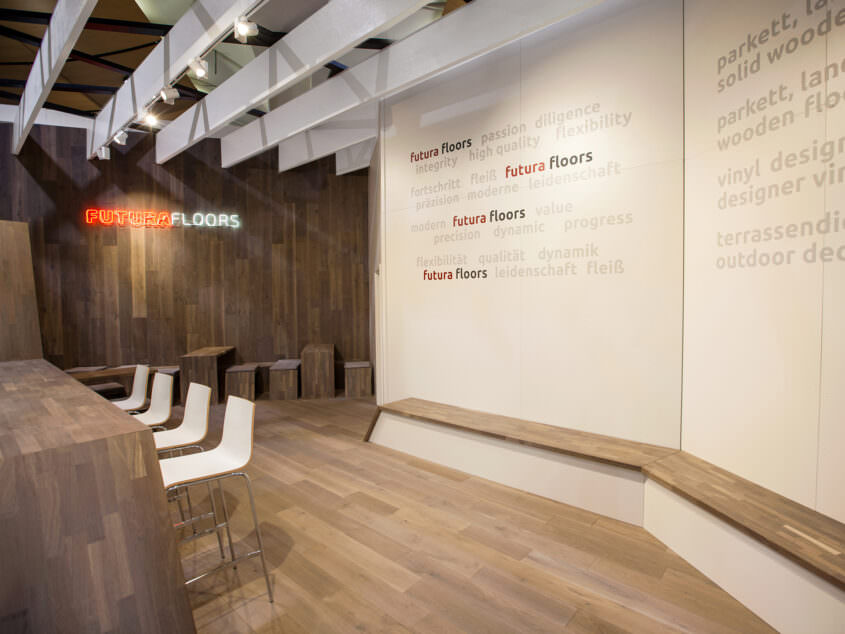 The world's leading trade fair for carpets and floor coverings DOMOTEX 2016 in Hannover, Germany is an international and innovative event. 1,400 exhibitors from 60 different countries showcase their products and new collections. Futura Floors invited gül koc GmbH to design their 81 sqm stand for the expo.
The program contains a back of house to store beverages, a mini-bar ensemble with high bar stools to engage the clients, a meeting space for consultations, and display wall for the products. The layout is arranged diagonally at a 35-degree angle. This offers the advantage that customers are invited from both open sides of the stand. The idea of floor and walls merges into the wall covering. The lateral covering of the furniture is de-materialised in white, so that the focus remains on the product in its material thickness but also that the central furniture, which houses the sample drawers, can become as long as possible. This way there are not several distributed pieces of furniture for the samples, but one central show place.
Slats spaced 40-50 cm apart form the ceiling above the stand. Track spotlights sit between the slats and illuminate the stand evenly. This enables more space for seating in the form of benches, as well as bar stools at the central counter. The logo is placed so as to ensure a good view of it from both sides of the aisle at the stand.
copyright © gül koc GmbH
LP 1-9
Year 2016