Marmot Exhibition Booth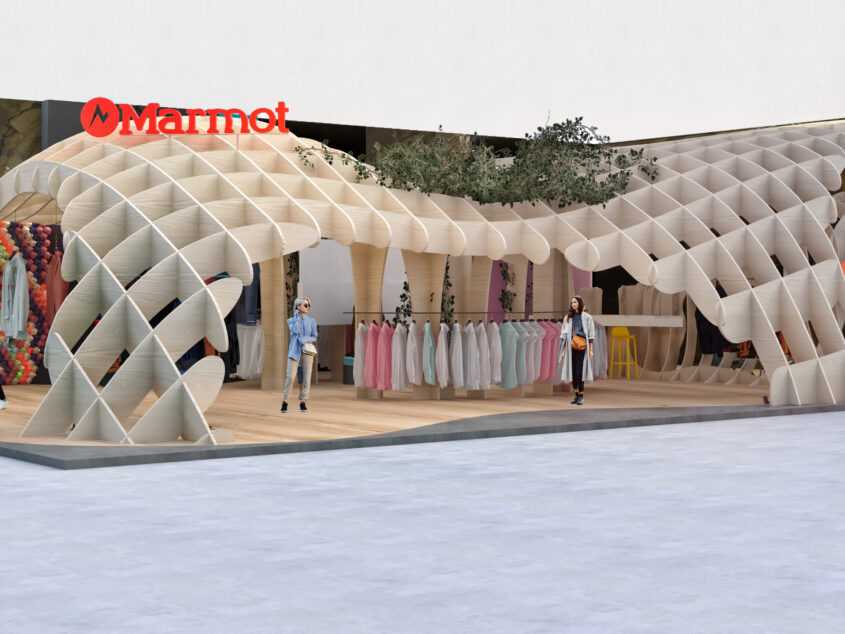 Developed to envisage the brand's new and stronger image, the stand is designed to be implemented in all leading sport expos. With a total area of 180 sqm, the exhibition stand and its structure represents the brand and meets its functional, mobile and business requirements.
The design is inspired by the brand's core ethics, with the intent of bringing nature inside and reflecting an enhanced brand image. Following an investigation into the lines and elements existing in nature, the concept of the booth represents its harmonic continuous forms. The set, which provides a private space for client interactions, a bar, service area and multiple display areas, ensures a smooth flow of traffic around all the product lines. The structure of the the shell was designed using a recycled bark mulch material and has the flexibility to be easily relocated. The layout has an organic flow to primarily highlight the product display. The accessory wall is made up of sleeping bags with a neon sign inside, showing the mission statement. The central area hosts the VR display and history wall, used to convey Marmot's journey and love of nature to all its customers.
copyright © gül koc GmbH
LP 1-3
Year 2019